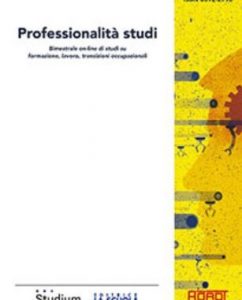 Andrea Bellini, Lilli Casano, Ilaria Mariotti, Lara Maestripieri, Claudio Melacarne, Michele Tiraboschi will edit a monographic issue of the journal "Professionalità Studi" titled "The Words and Concepts of the Ever-changing World of Work. Rethinking Work in the IV Industrial Revolution from an Interdisciplinary Perspective".
The contributions, in Italian, English, Spanish or French, written in the form of an essay with a minimum of 20,000 and a maximum of 60,000 characters (spaces and notes included) must be sent to the editorial office of the magazine by 31 September 2020 at the following address: professionalitàstudi@edizionistudium.it.
They will be evaluated with a double blind peer reviewing process. The evaluations will be communicated to the authors.
Contributions must be written in the format of the journal and accompanied by an abstract (maximum 1,000 characters, spaces included) in Italian and English. The editorial rules and formats for writing contributions are available on the site: https://moodle.adaptland.it/mod/folder/view.php?id=21338
More information about the call are available at the following link:
http://www.lps.polimi.it/wp-admin/upload.php?item=3749