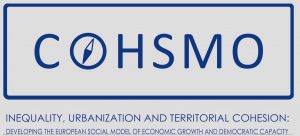 Il 9 giugno 2021 si terrà la conferenza finale del progetto Horizon 2020 COHSMO.
COHSMO indaga la relazione tra strutture socioeconomiche di disuguaglianza, urbanizzazione e coesione territoriale, e come la coesione territoriale a diverse scale europee possa influenzare la crescita economica, la giustizia spaziale e le capacità democratiche.
Il partenariato del progetto comprende 7 paesi. Oltre all'Italia, gli altri paesi coinvolti sono Danimarca, Austria, Polonia, Grecia, Lituania e Regno Unito.
Il programma della conferenza finale del progetto è il seguente:
Keynote: Prof Simin Davoudi: Territorial Cohesion, Spatial Inequalities and a 'Just Europe'

COHSMO presentations and discussion (15-20 min presentations followed by discussion)

10:30-11:10 Anja Jørgensen: Urbanization and the territorialisation of cohesion

11:00-11:30 Carolina Pacchi & Wirginia Aksztejn: Territorial governance and its reliance on vertical or horizontal policy coordination.

11:30-12:00 Jurga Bucaite-Vilke: Territorial cohesion and network governance: the alternatives for territorial development.

Keynote: Prof. Maurizio Ferrera: Neo-universalism and social investment policies

COHSMO presentations and discussion (10-15 min presentations followed by discussion):

14:00-14:20 Yuri Kazepov & Ruggero Cefalo: Territorialising Social Investments
14:20-14:40 Mia Arp Fallov: Typologies of how location matter?

14:40-15:00 Carolina Pacchi/ Costanzo Ranci: solutions for a more cohesive European territory

Plenary discussion:
Michael Woods/ Yuri Kazepov/ Costanzo Ranci/ Mia Arp Fallov/ Rob Atkinson

Wrapping up:
Hans Thor Andersen/Anja Jørgensen
Per maggiori informazioni, si prega di consultare la locandina dell'evento. 
E' richiesta la registrazione che può essere fatta attraverso il seguente link: https://forms.office.com/Pages/ResponsePage.aspx?id=Sbrb9QbOb0msPgzxQ2HZNJf1DPE7BsFNiBQ12RbN-c5UMzZFWFg1SFIxODdTT1k1TFpJMTc4Mlg5RC4u
COSHMO project has recieved funding from the European Union's Horizion 2020 research and innovation programme under grant agreement No 727058