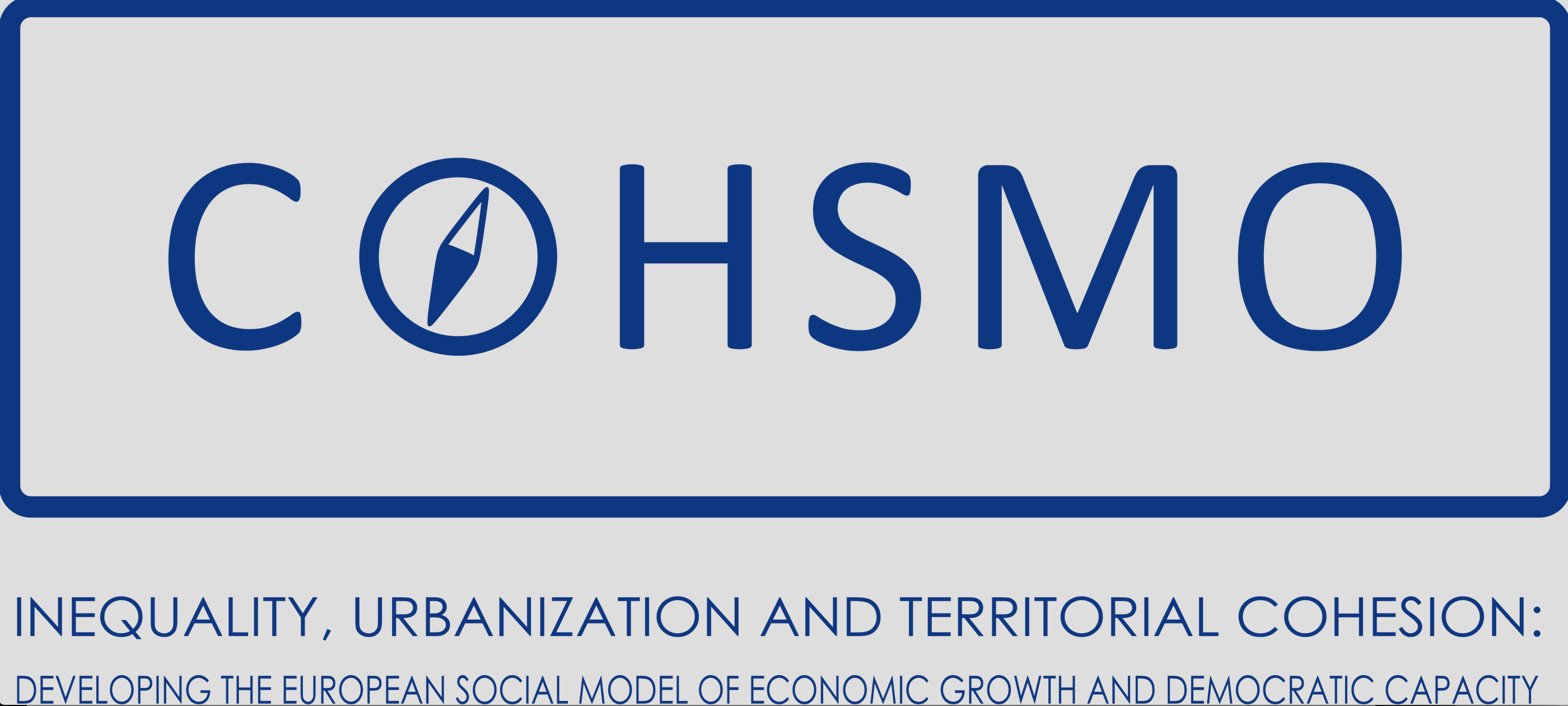 COHSMO è l'acronimo del progetto di ricerca trans-europeo "Disuguaglianza, urbanizzazione e coesione territoriale: sviluppare il modello sociale europeo di crescita economica e partecipazione democratica".
COHSMO intende indagare la relazione intercorrente fra strutture socio-economiche della disuguaglianza, urbanizzazione e coesione territoriale e, al tempo stesso, investigare come – a diverse scale – la coesione territoriale influisce sulla crescita economica, l'equità territoriale e la partecipazione democratica. Le modalità attraverso cui gli attori pubblici, privati e la società civile hanno cercato di affrontare o limitare la crescita delle disuguaglianze territoriali varia in modo significativo fra le diverse realtà in Europa. In questo quadro COHSMO intende analizzare come lo sviluppo di specifici assetti istituzionali radicati nelle realtà territoriali di riferimento possa incrementare la capacità di far fronte al fenomeno delle disuguaglianze territoriali crescenti. L'indagine si baserà su un'analisi trasversale di diversi interventi e sullo stato della coesione territoriale all'interno di tre casi studio specifici selezionati in ciascuno dei sette paesi coinvolti nel progetto, con l'impiego combinato di metodologie sia qualitative che quantitative utili a cogliere in profondità la specificità delle esperienze territoriali analizzate. Il lavoro di ricerca empirico si baserà in primo luogo sulla relazione fra strumenti di policy ed esperienze locali di coesione territoriale, per poi indagare come l'implementazione di "strategie di investmento sociale" ha affrontato il nodo della coesione territoriale a partire da condizioni locali specifiche. In aggiunta, il progetto intende realizzare una valutazione delle politiche di sviluppo territoriale implementate a diverse scale di governance, al fine di mappare l'impatto di strumenti di policy differenti nel contrasto delle disuguaglianze territoriali e della ingiustizia spaziale.
Periodo di finanziamento
2017-2021
Gruppo di lavoro
Costanzo Ranci, Marco Arlotti, Stefania Cerea, Marta Cordini, Carolina Pacchi, Andrea Parma, Stefania Sabatinelli, Luca Lazzarini.
Soggetto finanziatore
Unione Europea – Programma Horizon 2020
Partner
Aalborg University, Aalborg, Department of Sociology and Danish Building Research Institute, Denmark
University of Vienna, Department of Sociology, Austria
University of the West of England, Bristol, Department of Geography and Environmental Management, UK
Harokopio University, Athens, Department of Geography, Greece
University of Warsaw, Department of Local Development and Policy, Poland
Vytautas Magnus University, Kaunas, Social Research Centre, Lithuania
Website
Pubblicazioni
Luca Lazzarini, Carolina Pacchi (2021) Local narratives and spatial configurations of territorial cohesion: some evidences from COHSMO Project
Rob Atkinson e Carolina Pacchi (2020) In Search of Territorial Cohesion: An Elusive and Imagined Notion. Social Inclusion, vol. 8, no. 4.
Tatjana Boczy e Marta Margherita Cordini (2020) Narratives of Territorial Cohesion and Economic Growth: A Comparative Study. Social Inclusion, vol. 8, no. 4.
Tatjana Boczy, Ruggero Cefalo, Andrea Parma e Rikke Skovgaard Nielsen (2020) Positioning the Urban in the Global Knowledge Economy: Increasing Competitiveness or Inequality. Social Inclusion, vol. 8, no. 4
Stefania Cerea, Carolina Pacchi, Costanzo Ranci (2019) A Review of Italian Academic Literature and Public Policies on Territorial Cohesion. DASTU Working Papers Series, 1/2019.
Presentazioni
Pacchi C., Di Franco A., Parma,A. & Pessina G., Territorial inequalities and cohesion policies in urban, suburban and marginal areas: open challenges. Planning for Transition – AESOP (Venezia, 9-13 luglio 2019)
Newsletters