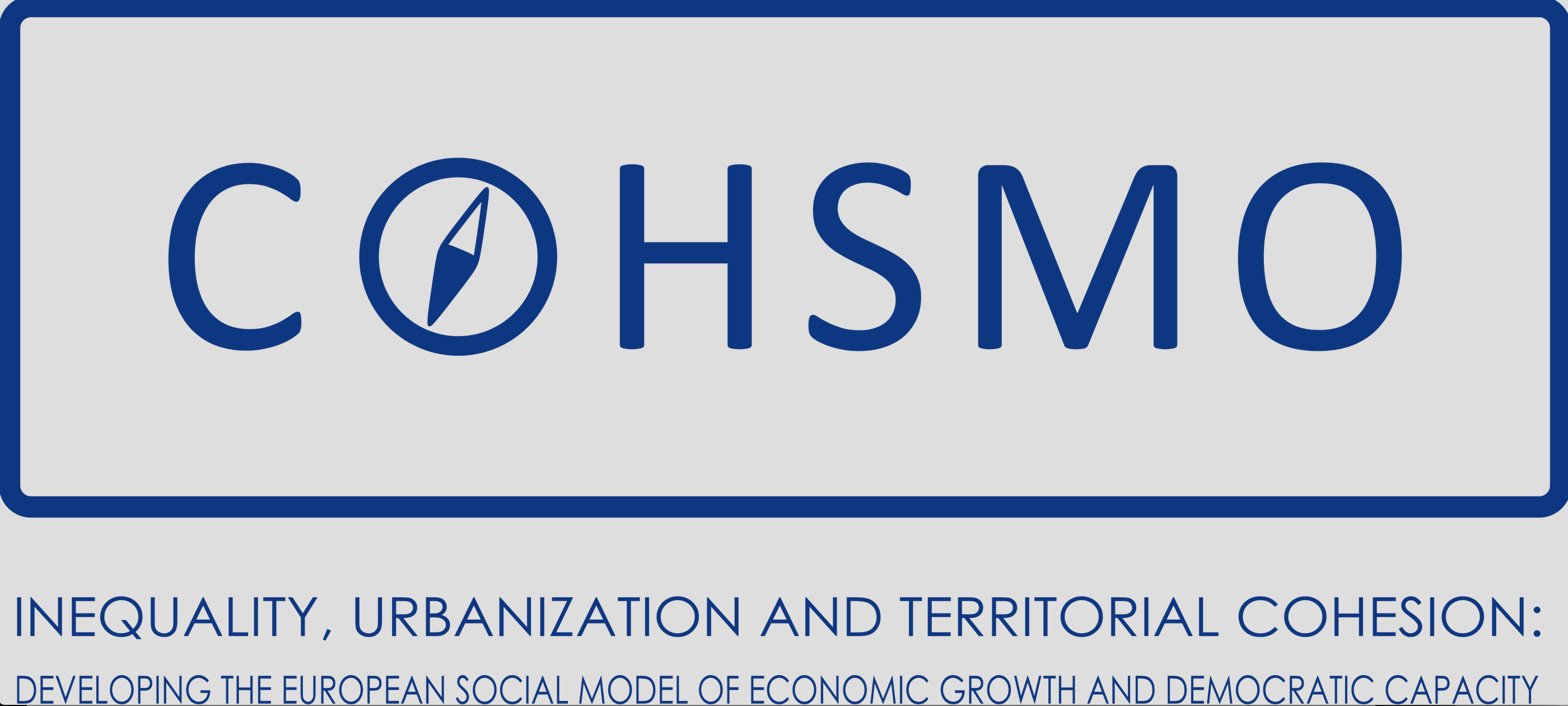 COHSMO is the acronym for a trans-European research project "Inequality, urbanization and territorial cohesion: Developing the European Social Model of economic growth and democratic capacity".
COHSMO aims at investigating the relation between the socio-economic structures of inequality, urbanization and territorial cohesion, and how territorial cohesion at different European spatial scales affects economic growth, spatial justice and democratic capacities. The way that public, private and civil society stakeholders counter or cushion spatial injustice varies across localities in Europe. COHSMO intends to investigate how developing place-based institutions can increase the capacity to cope with the territorial inequalities. This will be done by providing a cross-case analysis and assessment of territorial cohesion within three different cases in each of the seven national partner contexts based on a mixed method and location-sensitive approach. The fieldwork will focus firstly on the relation between policy instruments and local experiences of territorial cohesion, and secondly on how "social investment strategies" relate to territorial cohesion and local conditions. Moreover, the project engages in an assessment of spatial development policies at different governance scales to map the impact of different policy instruments and combat spatial inequality and spatial injustice.
Funding period
2017-2021
Research group
Costanzo Ranci, Marco Arlotti, Stefania Cerea, Marta Cordini, Carolina Pacchi, Andrea Parma, Stefania Sabatinelli, Luca Lazzarini
Funding Institution
European Union – Horizon 2020 Program
Partners
Aalborg University, Aalborg, Department of Sociology and Danish Building Research Institute, Denmark
University of Vienna, Department of Sociology, Austria
University of the West of England, Bristol, Department of Geography and Environmental Management, UK
Harokopio University, Athens, Department of Geography, Greece
University of Warsaw, Department of Local Development and Policy, Poland
Vytautas Magnus University, Kaunas, Social Research Centre, Lithuania
Website
Pubblications
Luca Lazzarini, Carolina Pacchi (2021) Local narratives and spatial configurations of territorial cohesion: some evidences from COHSMO Project
Rob Atkinson e Carolina Pacchi (2020) In Search of Territorial Cohesion: An Elusive and Imagined Notion. Social Inclusion, vol. 8, no. 4.
Tatjana Boczy e Marta Margherita Cordini (2020) Narratives of Territorial Cohesion and Economic Growth: A Comparative Study. Social Inclusion, vol. 8, no. 4.
Tatjana Boczy, Ruggero Cefalo, Andrea Parma e Rikke Skovgaard Nielsen (2020) Positioning the Urban in the Global Knowledge Economy: Increasing Competitiveness or Inequality. Social Inclusion, vol. 8, no. 4
Stefania Cerea, Carolina Pacchi, Costanzo Ranci (2019) A Review of Italian Academic Literature and Public Policies on Territorial Cohesion. DASTU Working Papers Series, 1/2019.
Presentations
Pacchi C., Di Franco A., Parma,A. & Pessina G., Territorial inequalities and cohesion policies in urban, suburban and marginal areas: open challenges. Planning for Transition – AESOP (Venezia, 9-13 luglio 2019)
Policy Briefs