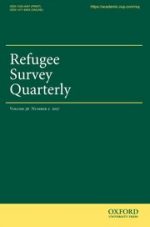 Si segnala l'uscita su Refugee Survey Quarterly (volume 39, issue 3) dell'articolo di Giuliana Costa:
Focalizzandosi sul periodo 2014-2016, l'articolo descrive il sistema di accoglienza milanese, discutendo in che misura l'esperienza ha costituito un'opportunità per l'innovazione sociale nelle politiche di welfare locale.
Di seguito, l'abstract completo del paper:
The State is responsible for hosting and protecting asylum-seekers and refugees, while policies and programmes are, instead, implemented at the local level. Local governance of forced migration can either reinforce exclusionist drivers imposed by national laws or effectively shape them through innovative practices, at times overcoming what is perceived as inadequate legislation, to manage the issue inclusively. This article describes Milan's asylum-seekers and migrants in transit hosting system in 2014–2016 and discusses the extent to which the experience constituted an opportunity for social innovation in local welfare policies. Giving asylum-seekers sanctuary and dealing with the high and rapid inflow of people in transit created a unique approach (for Italy) that is still under-researched, unlike that of cities such as Amsterdam and Barcelona. The components of the "Milan Model" are identified, contextualised, and scrutinised by 46 interviews with key informants, including executives of Milan Municipality, managers of the city's hosting facilities, social workers, journalists, Italian scholars, national and local social movement leaders, and volunteers and representatives of nationally coordinated associations.