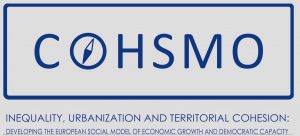 The Social Policy Laboratory has been involved in the
Horizon 2020
projec
t COHSMO
 for three years.
The project involves research units from 7 countries: in addition to Italy, Denmark (coordinator), Austria, Greece, Lithuania, Poland, United Kingdom.
The project explores, analyzing three case studies in each country, the theme of territorial cohesion and the reaction between social cohesion, urbanization and socio-economic inequalities, with the aim of analyzing how territorial cohesion at different scales influences economic growth, social justice and local democracy.
On 27-28 October, the periodic meeting was held to discuss the activities carried out in the last months and plan the following ones. Due to the pandemic, the meeting, which was supposed to take place in Aalborg, was held online.
Specifically, the first results emerged from the work on Working Package 6, coordinated by the English team (University of Bristol), were discussed. WP6 focused on examples of social innovation in the case studies analyzed by the project.
On the second day, the guidelines for the final WP, coordinated by the Politecnico, were discussed. This last part of the work will try to summarize the main findings of the project: how can we understand the relation between socio-economic structures of inequality, urbanization and territorial cohesion and how does territorial cohesion at different European scales affect economic growth, spatial justice and democratic capacities?
Finally, it has been noted that the works for the special issue dedicated to the themes of the project planned for the journal Social Inclusion are in the final phase. The publication is scheduled for the end of November.
This project has recieved funding from the European Union's Horizion 2020 research and innovation programme under grant agreement No 727058