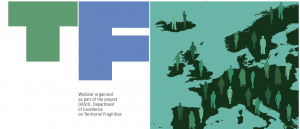 Si segnala il webinar organizzato da Manos Matsaganis, nell'ambito del progetto Fragilità Territoriali-Dipartimento di Eccellenza, su:
The economic geography of happiness, unhappiness and discontent
Il seminario si terrà il 15 dicembre, a partire dalle 16:30, e vede come principale invitato Dimitris Ballas.
I lavori saranno introdotti da Gabriele Pasqui e Manos Matsaganis. L'intervento di Dimitris Ballas sarà discusso da Camilla Lenzi.
Il link per accedere al webinar è il seguente: https://cutt.ly/GhQvOkU
Per maggiori informazioni, si prega di consultare la locandina.