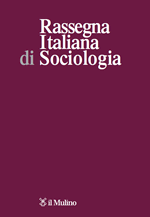 Rassegna Italiana di Sociologia is planning a block of articles (from 3 to 5) on social and political effects of the Covid-19 pandemics. 
Abstract should be sent by 31 January to monica.massari@unimi.it or costanzo.ranci@polimi.it  
The article should be 50-60,000 characters long and will be subjected to the standard peer review procedures provided by the journal. Papers are accepted both in Italian and in English (preferable). As for the timing, as publication is expected by 2021, the selected articles should be ready by the end of April, in order to foresee the revision process in the following months.
Below is the text of the call that summarizes the point of view to be adopted for these articles.
Italy has been the first western country to be hit by the Covid-19 pandemic. And it could be the western country with the highest number of deaths and the most severe mortality rates. RIS intends to open up an analysis and discussion about the peculiarity of the Italian case in an international comparative perspective. What can explain such primacy? What have been the most important effects, including the huge number of deaths?
The covid-19 pandemic has produced significant social impacts, which are destined to persist longer than the health emergency . Most of such social  effects have focused on the most vulnerable social groups.  Moreover,  the pandemic has represented a sort of stress test for public institutions and policies, showing their  structural and cultural capacity and weaknesses.
RIS intends to give space to empirical research and studies that have analyzed these phenomena. We focus on the unequal impact of the pandemic on different social groups and classes, and the capacity for reaction offered by public policies in the management of the emergency. We are especially interested in analysis considering:  the impacts of the pandemic on work, school, health; inequality in the distribution of such impacts; the capacity of public policies to provide protection to the population, including the most vulnerable.