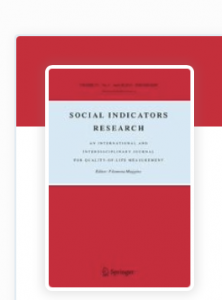 Si segnala la pubblicazione su Social Indicators Research del nuovo pezzo di Costanzo Ranci, Jason Backfield, Laura Bernardi e Andrea Parma dal titolo
New Measures of Economic Insecurity Reveal its Expansion Into EU Middle Classes and Welfare States
L'instabilità economica, i cambiamenti sociali e le nuove politiche sociali pongono l'insicurezza economica in cima all'agenda accademica e politica. Il pezzo contribuisce a questo dibattito proponendo una nuova misura multidimensionale e intertemporale di insicurezza economica che spiega il suo dinamismo. In secondo luogo, sviluppiamo un approccio dinamico all'analisi dell'insicurezza, utilizzando dati longitudinali e un approccio "headcount". Infine, utilizziamo le misure così elaborate per analizzare la distribuzione dell'insicurezza in Europa. La nostra analisi mostra che l'insicurezza è diffusa in tutta Europa, anche in paesi caratterizzati da bassa disuguaglianza. Inoltre, si estende a diversi gruppi di reddito e classi professionali, toccando anche le classi medie.
L'articolo è disponibile in open access sul sito della rivista: https://link.springer.com/article/10.1007/s11205-021-02709-4
This work was supported by PRIN 2017 project "Rising inequality and the sociaI insecurity of the middle class: measures, drivers, policies" (project code 20175HE4MS) financed by Italian Ministry of Education, University and Research.