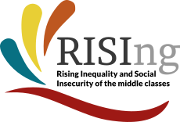 Siamo lieti di segnalare che il 19 novembre (ore 9.00) si terrà un webinar su The changing fortunes of middle-income households in Italy a partire da una presentazione di Francesco Bloise (Università di Roma Tre), Maurizio Franzini (La Sapienza), Michele Raitano (La Sapienza) e Francesca Subioli (La Sapienza).
Andrea Brandolini (Banca di Italia) discuterà il lavoro presentato.
Per maggiori informazioni sul lavoro che verrà presentato, si prega di consultare la locandina.
Il link per collegarsi è il seguente: https://polimi-it.zoom.us/j/83575507119?pwd=ZlRQbDQ0M3dzaTRhcTZlRDhsb2t0Zz09
Il seminario è organizzato nell'ambito del progetto PRIN "Rising inequality and the sociaI insecurity of the middle class: measures, drivers, policies".