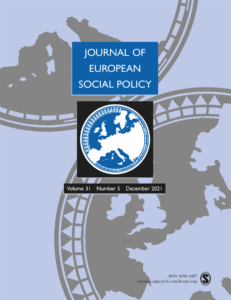 Si segnala la pubblicazione di nuovo pezzo scritto da Costanzo Ranci con Mary Daly, Margarita Leon, Birgit Pfau-Effinger e Tine Rostgaard sul Journal of European Social Policies
COVID-19 and policies for care homes in the first wave of the pandemic in European welfare states: Too little, too late?
L'articolo esamina l'impatto della pandemia COVID-19 sull'assistenza residenziale per gli anziani durante la prima ondata della pandemia nel 2020, confrontando una serie di paesi – Danimarca, Inghilterra, Germania, Italia e Spagna – per identificare gli approcci politici adottati nella lotta al virus nelle case di cura. Le politiche pandemiche nei confronti delle case di cura si confrontano in termini di lockdown, test e fornitura di dispositivi di protezione individuale. L'analisi comparativa mostra un chiaro raggruppamento transnazionale: Danimarca e Germania si caratterizzano per un approccio proattivo, mentre Inghilterra, Italia e Spagna hanno avuto grandi debolezze con conseguenti risposte ritardate e generalmente inadeguate. L'articolo mostra come i cluster di paesi sono integrati in particolari sistemi di politiche per l'assistenza a lungo termine (LTC).I fattori che evidenziamo come particolarmente importanti nella differenziazione dei paesi sono le risorse del settore, la regolamentazione del LTC e delle case di cura e il grado di coordinamento verticale (e in misura minore orizzontale) nel settore della residenzialità e tra questo e quello sanitario.
L'articolo è disponibile al seguente link: https://journals.sagepub.com/doi/full/10.1177/09589287211055672