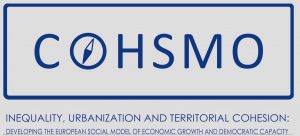 Within the Horizon 2020 project COHSMO, a summer school aimed at PhD students will be held on
Territorial Cohesion and Social Investment: what challenges for the European Social Model?
The summer school will be held in Aalborg (Denmark) from 24 to 27 August 2021.
The Summer School aims at addressing theoretical and methodological issues related to "territorial cohesion", "social investment" and the "European Social model" cross-disciplinary sharing the insights gained with the COHSMO project with young scholars and the wider academic community.
The themes will be discussed with extended references to how we translated concepts into a methodological frame useful for empirical research. What concepts have been used? How did we operationalize the research questions and concepts? How did we solve criticalities along the way in our comparative research?
Application deadline 15 July 2021: candidates should send a cv and a short summary of their research topic (max. 500 words) and a short motivation letter for participation. Successful candidates will be notified by July 21st 2021.
Confirmed keynote experts
Rob Atkinson (University of the West of England), Kai Böhme (Spatial Foresight), Giuliano Bonoli (University of Lausanne), Yuri Kazepov (University of Vienna), Carolina Pacchi (Politecnico di Milano), Wirginia Aksztejn (University of Warsaw), Hans Thor Andersen (University of Aalborg), Anja Jørgensen (University of Aalborg).
More information can be found on the COHSMO project's website: 
COSHMO project has recieved funding from the European Union's Horizion 2020 research and innovation programme under grant agreement No 727058